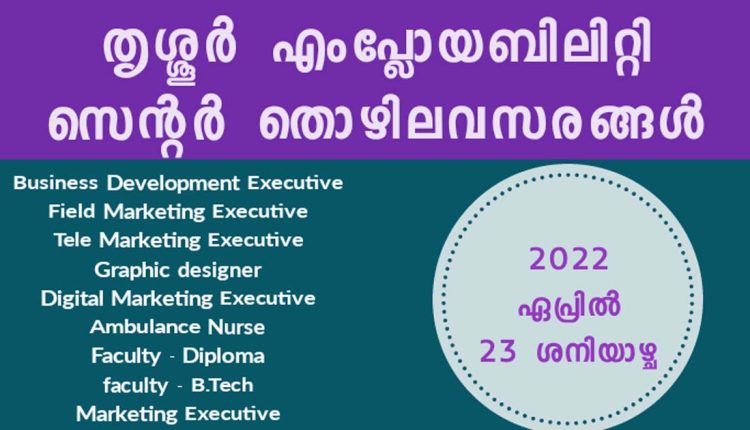 എംപ്ലോയബിലിറ്റി സെന്റർ, തൃശ്ശൂർ വഴി തൊഴിലവസരം. ഇന്റർവ്യൂ ഏപ്രിൽ 23
4 കമ്പനികളിലായി നിരവധി തൊഴിലവസരങ്ങൾ.
തീയതി : 2022 ഏപ്രിൽ 23 ശനിയാഴ്ച,
സമയം : 10.30 am – 02.00 pm
സ്ഥലം : എംപ്ലോയബിലിറ്റി സെന്റർ, എംപ്ലോയ്മെന്റ് എക്സ്ചേഞ്ച്, തൃശൂർ
(Eligible candidates should whatsapp their registration name, Receipt no. Firm name and Vacancy name to 9446228282) (Registered and trained candidate can apply through employabilitycentre.kerala.gov.in ("Need Resume, copy of receipt and certificates to attend the interview).
Vacancies:
Business Development Executive
Field Marketing Executive
Tele Marketing Executive
Graphic designer
Digital Marketing Executive
Ambulance Nurse
Faculty – Diploma
faculty – B.Tech
Marketing Executive