You can pay Building Tax and Property Tax through Online
For Land Tax
Revenue eServices
Land Revenue is a department having a great reach in the routine life of citizen – be it payment of statutory taxes and fees, getting certificates for various purposes, tackling emergencies and the like. Integrating all the services in a common platform is the need of the hour especially in the pandemic scenario where citizen are forced to confine in their households for longer periods. The Web application is designed to avail revenue services by enjoying the comfort of home. The main highlight of the application is that it is mobile friendly. Citizen can avail the services by registering in the portal. The history of the remittances are digitally saved in the individual logins for future reference avoiding the burden of keeping hardcopies of the same. By this endeavor, department is planning to move into a completely IT enabled service delivery system targeting maximum benefit to the citizen. One small step for the citizen and one giant leap for the department
Revenue Land Information System
ReLIS is a web application devised by Revenue department for enabling online integration with Registration and Survey departments thereby creating an electronically enabled backbone for the effective management of land records in the state. The project was initiated in 2011 and it was revamped in 2015 in order for better integration with all the stakeholder departments.
Integrated Revenue e-Payment System
An online payment system has been made operational since 2015 in online activated villages as an added feature of ReLIS enabling citizens to remit various taxes online from anywhere any time. Public can remit the amounts directly at village offices or through this system. The amount collected will be transferred to state exchequer efficiently and accounts are managed digitally in all revenue offices. The application is also equipped for the collection of revenue recovery dues and also the distribution of welfare funds as and when the situation demands.
e-maps
Web Application designed for integrating textual data with Spatial Data in order to obtain a purified land records maintenance system adhering to maximum ground truthing. The integrated e Maps Application will be a tool for the effective management of land records, minimize scope of land disputes, enhance transparency in the land records maintenance system, and facilitate the goal of guaranteed conclusive title to land.The scope of the system comprises an end to end solution for cadastral mapping, starting from digital verification of raster and vector data of cadastral maps, conducting digital survey, its integration with Textual Data and services such as mutation, updation, distribution of Land Records and maps in G2G and G2C domain as envisaged in the objectives of DILRMP project. The web application will incorporate all organization work flows and procedures followed in the Department.In present scope of work, cadastral maps are prepared within village boundaries with proper village index defining association and direction and orientation among plots constituting the village. The Citizen will be able to get the updated Digital Sketch of every single parcel in the village.
For Building Tax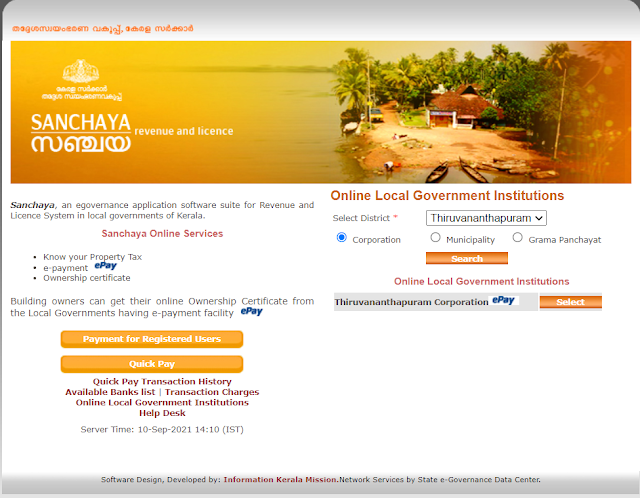 Sanchaya, an egovernance application software suite for Revenue and Licence System in local governments of Kerala. Building owners can get their online Ownership Certificate from the Local Governments having e-payment facility.
Sanchaya Online Services
Know your Property Tax
e-payment
Ownership certificate